Queen Mary's College had a remarkable presence at the Destination Basingtoke A Place to be Proud of Awards. Teacher Stella Gibbons, teacher Katherine Bejide, student Patricia Szoke, and student Kathrine George each receiving recognition for their outstanding contributions to the college and the wider community.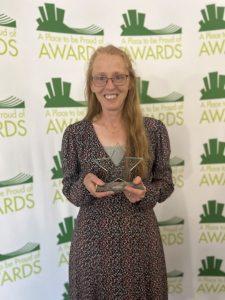 Stella Gibbons was the deserving winner of the 'Above and Beyond' category and also part of the winning team for the 'Community Project' category, for her role volunteering with Basingstoke Street Pastors. Stella's unwavering commitment to equality and inclusivity has inspired countless individuals within and beyond the college. One of her notable achievements is her dedication to helping cleaning staff improve their English skills and gain valuable qualifications. Stella's compassionate approach ensures that all members of the college and local community feel equal, valued, and included.
Recognising the importance of embracing diversity, Stella pioneered the development and implementation of a language hub at QMC. This innovative initiative allows students and their parents to access key messages in 20 different languages through the college's learning portal. This effort sets QMC apart as no other local educational institution has taken such strides in providing multilingual support.
In addition to championing linguistic diversity, Stella celebrates and promotes the representation of all ethnic groups at QMC and in Basingstoke. For many years, she has organized the Young Interpreters conference, a gathering that brings together diverse voices and cultures. Stella's passion and expertise have also been instrumental in supporting refugees and asylum seekers in the local community. She collaborated with organisations such as Basingstoke Voluntary Action Group and Care4Calais to host a Refugee Away day at QMC, providing resources and promoting mental well-being among displaced individuals.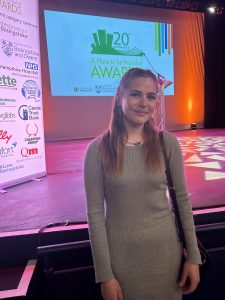 Joining Stella at the Place to be Proud of Awards were Katherine Bejide, Patricia Szoke, and Kathrine George. Katherine Bejide, another dedicated teacher at QMC, was nominated in the 'Above and Beyond' category for her exceptional work in promoting Equality, Diversity, and Inclusion throughout the college and the wider community.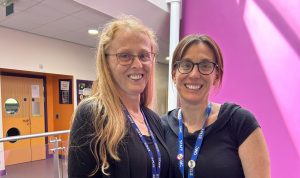 Student Patricia Szoke, Vice-President of the Students' Union and Student Governor, was a finalist in the 'Young Role Model' category. Patricia consistently goes the extra mile in her roles, demonstrating exceptional leadership and making significant contributions to charity fundraising initiatives at QMC.
Lastly, student Kathrine George was recognized as a finalist in the 'Unsung Hero' Award. Kathrine's voluntary work for a Hampshire food and activity program for disadvantaged children, coupled with her advocacy for South Asian Arts, exemplifies her dedication to making a positive impact.
The collective achievements of Stella Gibbons, Katherine Bejide, Patricia Szoke, and Kathrine George exemplify the spirit and values of Queen Mary's College. These individuals have gone above and beyond to create an inclusive and supportive environment for all, ensuring that QMC is a place where staff and students can thrive and be proud.